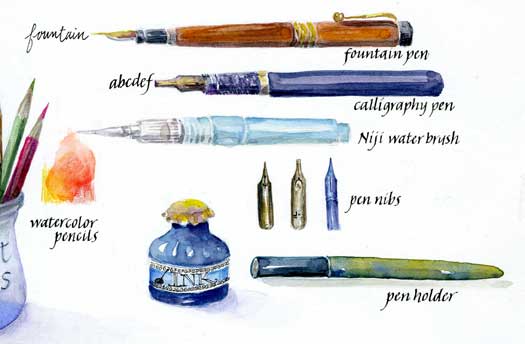 ALWAYS WITH ME. . . A few of my favorite writing tools.
FOUNTAIN PENS. . . not just one! A pointed flexible nib for drawing and a fine calligraphic chisel nib – in different millimeter widths. My fountain pens are always ready to go, ink filled. Great for drawing, sketching and writing. The immediacy of writing with wet ink is a treat. I carry them in a leather pen roll that is soft and supple from lots of use, and has a top flap that folds over the pen caps.
THE WATERBRUSH . . . A plastic barrel with a nylon brush filled with water. It's great for pulling out some color from watercolor pencils, dabbing into a paintbox, or wetting an inked line. It can be all that is needed to add dimension to a sketch. It's the most perfect solution for travel sketching – instant water!
 PEN HOLDER, PEN NIBS, INK . . . More time to write? Then individual pen nibs are ready to insert into a pen holder. Small 2 oz. Nalgene round leakproof plastic containers make the most secure of inkwells for traveling.
WATERCOLOR PENCILS . . . a definite must! Can be used dry for a spot of color or can be wet with a brush and voilà!